Wenger's long-term strategy works
Premiership
/ Richard Aikman / 06 December 2010 / Leave a comment Bet Now View Market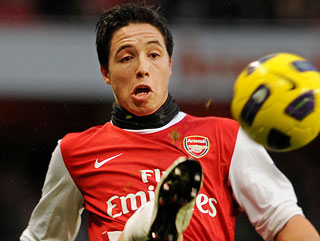 Wenger has long used the Carling Cup to blood fresh youngsters and away trips to Stoke are exactly the sort of test that is required to see who stands up to be counted.
Arsene Wenger has been criticised for playing a young team in Carling Cups past - but that competition has provided the perfect arena to blood youngster and Richard Aikman thinks it's the Premier League that is benefiting now.
Not for the first time in midweek Steve Claridge's BBC radio co-commentary on the Carling Cup quarter-finals made for irritating listening.
While Arsenal were struggling to break down Wigan, Claridge opined that Arsène Wenger's preference for fielding second-string and reserve team players away at places like Stoke was disrespectful towards the 6,000 or so supporters who pay good money to travel all that way on a week night.
After the Gunners had dispatched Wigan 2-0 at the Emirates, the former Portsmouth striker subsequently agreed with a caller who said that Arsenal's squad depth isn't as shallow as once it was and that the Gunners are now more of a force to be reckoned with these days. Hmm, I wonder why that is, Steve?
Wenger has long claimed that his refusal to buy his way out of trouble is based on a belief that emerging players need the space to flourish. Only the Frenchman really knows whether this is in fact true, or whether in reality his hand has been forced all the while by budgetary limitations. Either way, for the long game to prevail, Wenger has needed time. Time for the players to grow and learn; time for young fledglings to make naïve mistakes; time at the cost of a genuine title tilt for five years.
Wenger has long used the Carling Cup to blood fresh youngsters and away trips to Stoke are exactly the sort of test that is required to see who stands up to be counted. At 16 years and 177 days Cesc Fabregas became Arsenal's youngest ever player in a League Cup tie against Rotherham, in a side that included fellow debutants Justin Hoyte, Jerome Thomas, Gael Clichy, Graham Stack and Ryan Smith. If you don't blood your most promising players in the Carling Cup, when will you?
Well, actually, Wenger has begun to use every competition going to see what his young bucks are made of. Last season Aaron Ramsey made 18 league appearances and equalled his previous year's best of six Champions League sorties before sustaining the leg-break which sidelined him for nine months. Arsenal have also started farming out players to Championship and Premier League outfits to see how they fare when exposed to the cut and thrust of the professional game away from the home comforts of London Colney.
Ramsey, for example, is currently speeding his recovery with a loan spell at Nottingham Forest, Henri Lansbury (another victim of a long-term injury) is serving his apprenticeship at Norwich City, while Jack Wilshere was fast-tracked last term at Bolton.
At last Wenger is beginning to reap the fruits of his long-term strategy. Now, extraordinary player though he is, the Gunners are not so dependent on Fabregas. The Spaniard no longer has to bale his side out on a weekly basis because the likes of Jack Wilshere and Alex Song are coming of age. In fact, over the months in which they have had to make do without Thomas Vermaelen, Tomas Rosicky, Theo Walcott, Robin van Persie and Nicklas Bendtner, their squad mates have gained vital experience - because Wenger has trusted them.
Most impressively of all, midfielder Samir Nasri has stepped up to the plate. Before this campaign the Frenchman had only shown occasional flickers of brilliance, but this term, his third since signing as a callow 21-year-old, the Frenchman has started to fulfil the promise that convinced Wenger to spend £11m to prize him away from Marseille.
Possessing a fleetness of foot and mind matched only by the very best players in the division, Nasri has developed the confidence to express his unpredictable skills. With eight league goals to his name already, including both in Arsenal's table-topping 2-1 defeat of Fulham, the France international is showing the sort of consistency and leadership that has been missing whenever Fabregas has been - not to mention finishing that makes his [50.0] to finish top Premier League goal-scorer a bet worth considering.
Of course, so brittle is their defence that it would be madness to suggest that Arsenal, who are [1.62] to break their five-year trophy doubt by lifting the Carling Cup and in to [4.9] (from [6.2] a week ago) to win the Premier League, will go on to win the title, even in this maddest of seasons. Chelsea (out to [3.05]) and Manchester United [2.88] will have plenty yet to say about that. But it all makes for an intriguing state of affairs ahead of the latest league leaders' visit to Old Trafford next week, when, probably without Fabregas, Arsenal hope to take another significant next step in their evolution.