How long can Nick Clegg survive?
Politics
/ Paul Krishnamurty / 14 December 2010 / Leave a comment Bet Now View Market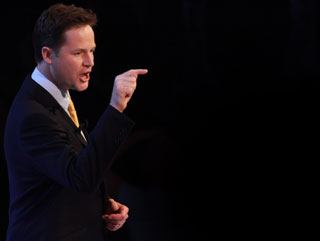 Labour are not the only beneficiaries of a Lib Dem collapse. The Conservatives are unlikely to ever again lose seats like Eastbourne or Wells, where their Lib Dem opponents rely on tactical Labour votes. The Greens will doubtless hoover up some of the 'anti-establishment' vote.
Paul Krishnamurty on why Nick Clegg's could be numbered and how we can make money out of knowing that.
It is only a few months since a then largely unknown Liberal Democrat leader made a rare headline, with an apocalyptic warning of riots in the streets under an incoming Tory government introducing savage cuts. Presumably Nick Clegg didn't anticipate that when those riots indeed appeared, he would be the protesters' main target.

Recent events have been nothing short of catastrophic for the Lib Dems. Their poll rating went into free-fall almost the moment they agreed to form a coalition with the Conservatives, and this weekend its down to just 9%. Clegg-mania seems a distant memory and historians are already drawing parallels with the last Liberal period in government, when the party split during the 1930s and drifted into irrelevance.
Leaving aside the merits of coalition policy itself, their political strategy seems extraordinarily inept. Clegg's rationale was that they would prove their worth as a serious party of government and normalise the idea of coalition, as elsewhere in the the EU. On the continent, however, minor parties usually state a preference about whom they would be willing to share power with. Voters generally understand that they're voting for a red/green or blue/yellow coalition. By refusing to express such a preference, Clegg was always going to face accusations of betrayal from a section of his voters when making that choice. Much of his support comes from people who would never vote Conservative, or in some cases only vote Lib Dem tactically in order to keep the Tories out.

Their message is hard to sell. On those rare occasions when the pub or bus stop conversation turns to politics and the Lib Dems, people are hardly likely to be talking about the 'pupil premium' for disadvantaged children (a key Lib Dem demand), as opposed to massive cuts in education and youth services. All the while, their opponents will remind voters of broken manifesto promises to oppose any rise in tuition fees or VAT, and accuse Clegg and co of being opportunists, ready to swap principles for power.

Their support for raising tuition fees seems particularly insane given the profile of Lib Dem activists and voters. Thousands of university staff and students joined the party specifically because of their policy to abolish fees. Without their support, they would never have won a spate of Labour seats in university towns. Polls before the last election regularly showed the Lib Dems leading amongst 18-34 year-olds. Even after a low turnout from those age groups, they were almost tied for the lead with Labour amongst the young. For a party with only 57 seats, alienating their core support like this represents political suicide.

How Ed Miliband must be relieved that Clegg opted for coalition rather than opposition. From his party facing a similarly precarious future, Labour have become the likeliest beneficiary of anti-coalition sentiment by default. Despite making few waves in opposition, Labour's poll ratings are up by a third since the election, with the most recent figures showing them slightly ahead of the Conservatives. Clearly many natural Labour voters who preferred the Lib Dem's previous, more left-wing stance are returning home. Labour voters are on average younger than Conservatives, so given the low turnout amongst younger groups last time, they could make massive gains if the young are indeed becoming politicised. Expect Miliband and the NUS to be doing everything in their power to get young voters registered next time.

Labour are not the only beneficiaries of a Lib Dem collapse. The Conservatives are unlikely to ever again lose seats like Eastbourne or Wells, where their Lib Dem opponents rely on tactical Labour votes. The Greens will doubtless hoover up some of the 'anti-establishment' vote. However, as this perceptive article illustrates, long-term trends in British politics suggest that Labour would have an almost natural majority if the Lib Dems were to sink. We must remember that many Lib Dems were formerly members or voters of the SDP, which was a breakaway from Labour.

Whether that turns out to be the case will of course be determined by longer term events. For now, the principal betting concerns how much longer a wounded Clegg can stay on. I just can't see him standing at the next election, especially defending his Sheffield Hallam seat, which is heavily dependent on the university vote. Would he really hang on to risk total humiliation and daily barracking on the campaign trail? Just the fact of having served in government will completely change the dynamics of a Lib Dem election campaign. Could Clegg and Cameron plausibly oppose one other in the TV debates? There is a school of thought amongst both leadership camps that some sort of formal electoral pact could be formed, but neither party's rank-and-file are likely to ever accept that.
If you don't mind potentially laying out money until the next election, laying Clegg to make 2015 looks like easy money. I don't think he will last anywhere near that long, and am particularly interested in the Jul-Sep 2011 and Oct-Dec 2011 bands. There are a series of disasters lurking in the months ahead, that could make his position untenable. Firstly, there's February's Oldham East & Saddleworth by-election, followed by elections to the Scottish Parliament, Welsh Assembly and English councils in May. As the political impact of the cuts are principally local, where they start from a strong position, the narrative against them is brutal.
The Lib Dems are largely a 'bottom-up' party, reliant on councillors and local activists to compete with their bigger, richer rivals. If and when that base is wiped out, the party could split, or even fold. At the very least, the party conference in September is bound to see widespread rebellion. Winning the other key forthcoming poll - a referendum on a change to the AV voting system - could be Clegg's only hope. Even here though, while a win might appease the party faithful, it could appear to the wider electorate that the Lib Dems had sacrificed the rest of their principles in favour of a technical, self-serving change.

In addition to betting on the timing of Clegg's departure, the other key market concerns his successor, with three candidates standing out. Chris Huhne has already run for the leadership twice before, and Vince Cable is widely popular - or at least he was until the tuition fees disaster, which left him in the incredulous position of mooting the idea of abstaining on his own legislation. Both men are now compromised by their part in the coalition, so I'd be more inclined to back the party president Tim Farron at around [7.0]. Farron was one of the 21 rebels who voted against the tuition fees rise, and remains a popular grass-roots figure. He's only 40 and widely seen as a future leader. I wouldn't fancy his task if and when the position arrives though.
Recommended bets
Leader Exit Dates - Nick Clegg
Lay July 15 2011 or later
Back Jul-Sep 2011
Back Oct-Dec 2011
Next Lib Dem leader
Tim Farron @ [7.0]