Odds too short for Tiger and Rory
/ Paul Krishnamurty / 08 February 2012 / Leave a comment Bet Now View Market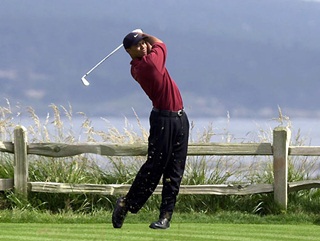 Tiger may have most of his game back, but he simply doesn't carry the same persona these days...
Paul Krishnamurty still believes laying Tiger Woods or Rory McIlroy is the way to go, despite them being favoured by Betfair punters at short odds.

Eight weeks ahead of the opening major of 2012, a two-horse race narrative is gaining momentum.
With Phil Mickelson, Luke Donald and Lee Westwood making slow starts to their campaigns, Tiger Woods and Rory McIlroy are streets ahead of the rest in the betting at [6.2] and [8.4] respectively, and with the big-2 heading markets on each main tour, this week offers a good opportunity for punters to weigh up their form.
Moreover, it offers a good test case for whether either man, or indeed anyone, can represent good value at single-figure odds nowadays.
First, the positives.
Arguing with their course form credentials would be churlish. McIlroy's first title came at the Dubai Desert Classic, albeit at several times this week's miserly [5.4] quote. Tiger has won the AT&T Pebble Beach Pro-Am, and produced arguably his finest ever performance when winning the 2000 US Open by 15 shots on this famous links. Both played very well on their seasonal debuts, contending throughout at the Abu Dhabi Championship.
However, with that event fresh in the memory, I'm not convinced either man represents value. Betting may be ultimately about picking winners, but repeatedly taking too short a price will lose over the long-term. For my money, the only times a golfer can represent good value in single figures are when either the opposition is weak, or the player in question is prolific. Neither comment can be fairly applied here.
Tiger was of course unbelievably prolific at his peak, but while his effort in Abu Dhabi was good, it wasn't reminiscent of his old self. Once upon a time, Woods was unbeatable when holding a weekend lead. This time he was comprehensively outplayed by relative journeyman Robert Rock in the final 3-ball (Peter Hanson was the other contender to fall away), barely hitting a green in regulation and failing to put the pressure on when Rock began to flounder. Rather than conjuring memories of the glory days, it strengthened the doubts left by another recent failure, when blowing a weekend lead at the Australian Open to the hardly terrifying figures of Greg Chalmers and John Senden.
Tiger may have most of his game back, but he simply doesn't carry the same persona these days, and perhaps even the self-confidence that drove him to rewrite the history books time and again. Without that aura, he must be considered a normal golfer, albeit a very good one, about whom short odds can only occasionally appeal, in specific circumstances. A pro-am, where anyone can hit a very low score, isn't one of them. He might be a former champion, but one title from six attempts makes it one of his weaker events. Given that he missed the top-ten in four out of those six previous attempts, the best value may lie in laying at [1.7] and [2.5] for the top-ten and top-five markets.
The wider point is that nobody at the top of the game seems particularly prolific these days, and with the competition getting fiercer by the day, we may never see the likes of a young Woods again. McIlroy is a classic case in point. He may well be world number one by the end of the year, and is phenomenally consistent. Seeking to pick holes in his form is increasingly futile. Yet for all that, McIlroy has won only four times in well over 100 tournaments. One doesn't need a maths degree to work out that doesn't equate to a [5.4] chance.
There is a sound counter argument that Rory nearly always trades shorter than that In-Play, but with an afternoon tee-time, there is every chance he will face an uphill task to catch the leaders and drift before even hitting a shot. With no shortage of plausible alternatives, including fellow members of the golfing elite like Westwood and Martin Kaymer, laying McIlroy at such a short opening price could be a good position to start building an In-Play book.

Recommended bets
AT&T Pebble Beach Pro-am
Lay Tiger Woods for top-five finish @ [2.5]
Lay Tiger Woods for top-ten finish @ [1.7]
Dubai Desert Classic
Lay Rory McIlroy to win @ [5.4]