Young gun Fowler has form
Golf
/ Dan Geraghty / 19 September 2010 / Leave a comment Bet Now View Market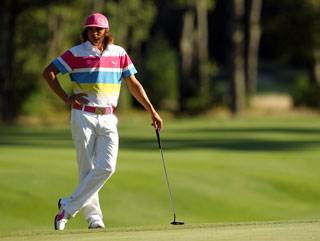 Rickie was a surprise inclusion for many but with Anthony Kim struggling for form I was sure Fowler would get the nod.
No-one knows golfers from across the pond like our regular PGA Tour watcher Dan Geraghty - here he rates the dozen dudes lining up for Team USA at Celtic Manor.
Tiger Woods - Top US point-scorer odds [7.2]
Many thought Woods wouldn't make it to this year's Ryder Cup but he's putting the work in and, in spells, is playing some wonderful golf. Somehow he's still the world number one and a Ryder Cup might be just what Tiger needs to spark him back to life. With their frankly ridiculous driving, a suitable match-play partner for Tiger would be Padraig Harrington, bring a hard-hat if you're planning on following that one though.
Phil Mickelson ([7.6])
Phil's form has tailed off a little in recent months but there were glimpses of his magic last week and I think he'll go close to defending his Tour Championship title next week in Georgia. With question marks over Tiger, Phil may need to step up and 'lead' the American team's charge. With this years wonderful Masters victory fresh in the memory, he's a worthy leader.
Steve Stricker ([7.6])
Unbelievably, the 43-year-old Stricker has only made one Ryder Cup appearance - 2008, when he gained just half a point from his three matches. However, Stricker's appearance on the team this year has never been in doubt and he will surely be a big player for the US. Stricker has risen to number four in the world and is enjoying the best spell of his career. His putting could be key at Celtic Manor.
Dustin Johnson ([9.2])
Johnson is undoubtedly US golf's man of the moment. Dustin has been the big story at two of this years Major Championships - firstly, when capitulating at the US Open and then suffering a post-round, two shot penalty at this year's US PGA Championship that cost him a place in the play off. Dustin has bounced back from those disappointments remarkably quickly and his win at last week's BMW Championship has given him an excellent chance to win the FedEx Cup. His huge - and straight - driving is a massive advantage for the US team. Whoever is paired with him in the foursomes might want to start polishing their sand wedge.
Matt Kuchar ([10.0])
'Mr Consistency' Matt Kuchar is also enjoying his best season yet. He took advantage of a disappointing three putt from Martin Laird to win the Barclays and can count himself among the favourites to win the FedEx Cup next week. Kuchar has had a staggering 11 top tens and 18 top 25s this season, he is certainly one of America's trump cards for Celtic Manor and he is the guy most players will want to be paired with.
Jim Furyk ([10.0])
After the anomaly of two win-less years, Gentleman Jim has bounced back this season with two victories. His form has been excellent all year and the only blip came when his phone battery died and he was disqualified for missing his tee time at the Barclays. Forty-year-old Jim has made six Ryder Cup appearances and despite his obvious talents his record is average having won eight, halved three and lost 13. However, off the back of a great comeback season, Jim will be one of Pavin's brightest hopes.
Hunter Mahan ([11.5])
Mahan is a bit of a mystery, when he's hot he is simply unbeatable but he blows hot and cold too often. In a very up and down season Hunter has won twice this year, including the WGC Bridgestone Invitational last month. Mahan was undoubtedly one of the stars of the show at the last Ryder Cup and, though there's every chance he'll be a star once more, I'd be wary of which Hunter Mahan shows up at a potentially cold, wet, Celtic Manor.
Stewart Cink ([14.5])
Cink comes into this Ryder Cup as a Major Champion and that will surely be a big boost to the US team's collective confidence. Although he has struggled a little bit since his Open Championship win, his experience could prove vital. Cink has played in four previous Ryder Cups, winning four matches, halving four and losing seven.
Zach Johnson ([15.5])
Johnson is another with only one Ryder Cup appearance (Ireland, 2006). But on that debut he performed with credit, gaining one-and-a-half points from four. Johnson doesn't come here in top form as, despite a win and only two missed cuts, Zach has had a quiet season. However, he is a Major winner and a very, very solid player, he'll surely make few mistakes and will be very tough to beat.
Rickie Fowler ([21.0])
Rickie was a surprise inclusion for many but with Anthony Kim struggling for form I was sure Fowler would get the nod. His youthful energy and attacking style can be a match for Rory McIlroy and a potential tussle between the two is mouth-watering. They met in foursomes in the 2007 Walker Cup where Fowler and partner triumphed. There are signs that Fowler can make a big impression in Wales - he has won seven of his eight Walker Cup matches so the Ryder Cup format will surely suit.

Bubba Watson ([24.0])
The big man has easily had the finest season of his career to date. His first victory was very nearly followed by his first Major at the US PGA Championship a few weeks ago. However, the fact that Martin Kaymer went head-to-head (in the PGA Championship play off) with Bubba on American soil and won is a feather in Team Europe's cap. Bubba's form has tailed off in recent months but you can be sure the patriotic American will be ready for Celtic Manor.
Jeff Overton ([30.0])
Overton is yet another American who is currently struggling for form. This will be his Ryder Cup debut and his inclusion is down to some remarkable consistency earlier in the season. He's yet to win on the PGA Tour but has come very close, not least when Stuart Appleby's 59 beat him into second at the Greenbrier Classic at the very start of August. Overton has had a fantastic five top five finishes this year alone.