Ryder Cup: why the USA will win
Golf
/ The Betfair Contrarian / 22 September 2010 / Leave a comment Bet Now View Market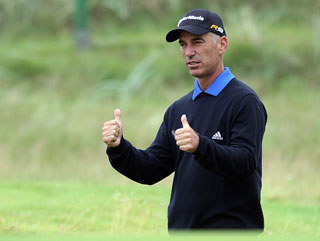 Corey Pavin has selected five Ryder Cup rookies in his USA team, yet Colin Montgomerie has riskily filled half of his squad spots with debutantes...
The market says Europe will triumph at Celtic Manor, so who do you think the Betfair Contrarian will be backing? Correct sir! The U-S of A!

The USA won the last one
Even though they were without Tiger Woods two years ago when he was at the peak of his powers and still considered a global sporting icon, the USA won the Ryder Cup by their largest margin since 1981, having previously gone nine years without the trophy. There has only been once occasion in over 75 years where the USA have failed to retain after regaining and that was in 2002, when there was a three-year gap between tournaments instead of the usual two.

It's being held in the UK again
Since Europe took over as the USA's opponents in 1979, they have won just two of the five Ryder Cups contested in the UK, whereas the two that have been held elsewhere on the continent were both won by the hosts, the most recent by an emphatic 18.5-9.5 margin. The picture looks no less bleak if you look back further at how Great Britain and Ireland fared in the UK before they linked up with the rest of Europe - USA have been beaten just three times on British soil since World War Two, so won't be too overwhelmed by the prospect of travelling to the Celtic Manor Resort in Newport.
The USA boast the experience advantage
Corey Pavin has selected five Ryder Cup rookies in his USA team, yet Colin Montgomerie has riskily filled half of his squad spots with debutantes, while five of his six players already familiar with the competition were part of the side that lost in 2008. Admittedly, a similar gamble on newcomers paid off for USA two years ago, however that was forced upon them somewhat by the unavailability of Woods. Europe have a key figure of their own missing this year, after Sergio Garcia - the star performer in a number of recent European triumphs and a member of the last five squads - decided to take a break from golf after a disappointing few months.

Europe have a few problems
Inexperience isn't the only worry for Europe, as there are also question marks over the fitness of main man Lee Westwood, who has been struggling with a calf injury and hasn't played competitively in almost two months. The world number three will definitely take part, but a degree of rustiness is to be expected after an absence, as Woods has illustrated. Montgomerie's decision to select Padraig Harrington as a wild card ahead of Paul Casey and Justin Rose was also hugely contentious and there's little to suggest that his call will be vindicated. Harrington hasn't won on the US or European Tours since 2008 and failed to win a single match at either of the last two Ryder Cups, taking one point from nine in total over that period.

Tiger Woods actually cares this year
The extent to which Woods has cared about the Ryder Cup in the past has been questioned, with the world number one once pointing out that nobody remembers 18-time major winner Jack Nicklaus' record in the competition. However, having gone over two years without winning a major, and missing his nation's 2008 victory, he needs all the glory he can get. This is the first time he has been involved without being an automatic pick and the need to repay Pavin's faith provides added motivation. Woods has spoken enthusiastically about the trip to Newport, saying: "It's great to be a part of this team. I'm honoured to be selected."