The Little Master honoured
Cricket
/ Andrew Hughes / 18 March 2012 / Leave a comment Bet Now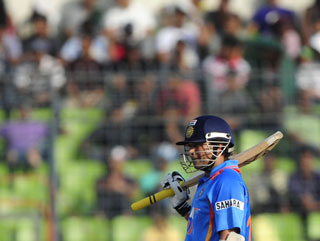 The master at work
He has scored centuries against every opposition, in every format, under all conditions and in every kind of match situation.
With his 100th century finally behind him, Sachin Tendulkar deserves the highest praise, something Andrew Hughes is happy to offer.

One hundred international centuries. It barely seems credible. And it's unlikely ever to be matched. Ricky Ponting has managed 71 and may not add too many more. Jacques Kallis is 41 behind and even the great Brian Lara finished on 53. In consistent accumulation of hundreds, Sachin Tendulkar has dwarfed his contemporaries and is completely out of reach numerically.
It has been suggested that the sheer weight of international runs he has garnered (33,854 and counting) is the inevitable result of a career that began as long ago as 1989. But there has been nothing inevitable about it. You don't get to keep your place in an international team, let alone a team from a country as rich in batting-talent as India, for 23 years unless you deserve it.
He has scored centuries against every opposition, in every format, under all conditions and in every kind of match situation. He has faced Courtney Walsh and Curtly Ambrose in Kingston, Waqar Younis and Wasim Akram in Karachi; Shane Warne, Allan Donald, Glen McGrath, Muttiah Muralitheran. He has matched them all and outlasted them, working tirelessly to remove every tiny flaw from his technique.
He began as a teenager with a big domestic reputation. His early international career was about survival, but he was brave, coping well with the inevitable attempts to bully him and showing a prodigious mastery of all the shots. His first Test century came in 1990, a match-saving effort when India were in trouble on tricky Old Trafford pitch.

By the mid-1990s, he was at his peak and revelling in his ability to take apart any attack in any circumstances. His batting in those years combined the destructive power of Viv Richards with the precision of Brian Lara. At Sharjah in 1998, he single-handedly destroyed the Australian bowling with two sublime centuries, of which this 134, scored on his birthday, was the finest.
In the latter part of his career, he has found new ways to beat opponents, no longer demolishing bowlers, but taking them apart with the sublime ease of the master craftsman. In the Chennai Test of 2008, he led India on a record-breaking chase. It was a majestic century throughout which he didn't play a single false shot:

There have been many others; a brave 114 on a lightning fast Perth track in 1992; a gritty 136 on a turner against Pakistan in 1999; his blunting of Dale Steyn on his way to 146 in Cape Town last year; the first ever double century in a one-day game, scored in the blistering heat of Gwalior whilst suffering from severe cramp. Amongst his century of centuries there has not been a dull innings.
After watching Tendulkar bat early in his career, Don Bradman said this: "I saw him playing on television and I was struck by his technique. Now I never saw myself play but I feel that he is playing much the same as I used to play."
There's no greater praise than that. Tendulkar has pushed back the statistical frontiers of cricket and has done so with personal humility and considerable style. We should all take this opportunity to salute the Little Master, the complete modern batsman, whose achievements will probably never be equalled.