Political Betting: Game still on for Rep Nomination
Betting tips
/ Paul Krishnamurty / 29 February 2012 / Leave a comment Bet Now View Market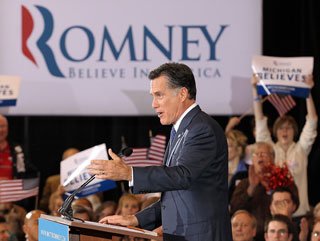 These two states were long expected to be friendly to Romney, buoyed by a large Mormon community
Even though his win in his home state was far from convincing, heading into Super Tuesday, Mitt Romney has firmed as favourite for the Republican nomination.
Despite some early scares, the latest round of Republican contests saw Mitt Romney make significant strides towards winning his party's nomination, with victories in Arizona and Michigan.

While there was never much doubt about the former, Romney surrended favouritism for Michigan at one stage, drifting from an almost unbackable [1.05]. When the early returns showed Santorum opening up a lead, it looked like we might be in store for yet another Colorado-style upset, but as the night drew on, Romney pulled away for a victory and has now shortened to just [1.25] for the nomination.

More important perhaps than the wins is the fact Romney won all 29 delegates in Arizona, therefore extending a formidable lead.

There is still, however, much to play for.

These two states were long expected to be friendly to Romney, buoyed by a large Mormon community in the former, and the fact he grew up in the latter, when his father was Michigan Governor. Whether he can maintain an advantage over his more socially conservative rivals in less favourable Southern states remains to be seen.

The next stage is 'Super Tuesday' seven days from now, when ten states go to the polls, with a massive 431 delegates up for grabs.