Spin twins for England
Betting tips
/ Frank Gregan / 13 December 2011 / Leave a comment Bet Now View Market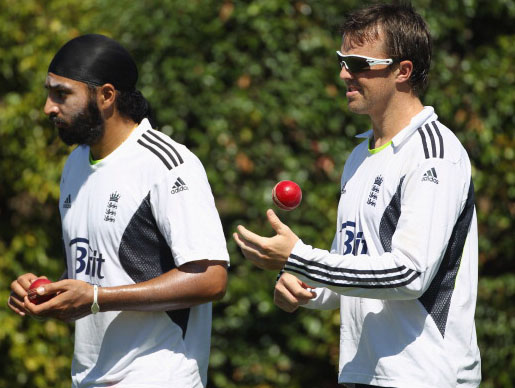 Whilst Monty is no spring chicken, he's not ready for the nursing home either.
Frank Gegan was surprised at the selection of Monty Panesar in England's squad ahead of matches against Pakistan in the new year, and is expecting big things of him to warrant his inclusion.


The first Test gets underway on January 17 and the squad of sixteen players that has been picked has a very familiar look to it.
Ravi Bopara coming in for Paul Collingwood, who retired from Test cricket at the beginning of this year, is the only change from the victorious 2010-11 touring Ashes squad. Graham Onions has been added to the party but is not an official member of the squad but he looks likely to leap-frog the second wicket keeper and the number two spin bowler if a couple of the fast bowlers break down. But should he? What's wrong with going with two spinners?
The inclusion of Monty Panesar gladdens the heart. There's something reassuring about having Monty around the place. It's a bit like having fruit in the bowl at home, you know it's good for you but it often gets over-looked for the sexier option. His form for Sussex this year was good enough to earn him a place on the plane but will it be good enough to get him out to the middle and have Andrew Strauss throw him the ball?

There were a number of options available to the selectors when it came to picking Graeme Swann's number two. Many pundits thought that Nottinghamshire's Samit Patel should get the nod. The train of thought being that the days of gaining experience by being around the squad are long gone for Monty whilst Patel would benefit from the trip, even if he didn't get much action.

The perception that Monty is coming to the end of his career whilst Patel is a young up and coming talent doesn't carry much weight. Whilst Monty is no spring chicken, he's not ready for the nursing home either. He'll be 30 next year whilst Samit is not too far behind him, he celebrated his 27th birthday a couple of weeks ago. They should both be at the peak of their game but with England boasting a genuine world class spinner in Swann, there's not been many opportunities for anybody else to show what they can do.

Unlike other team games that use substitutes and replacements to influence matches, members of a cricket touring party that aren't in the starting 11 are about as involved as David Cameron at the Eurozone Christmas Karaoke. In fact they're treated even more contemptuously, used as drink waiters and message boys, gophering for the warriors in the middle. It has to be soul destroying and demeaning.

This tour looks tailor-made for a double spin attack. When a wicket is receptive to spin invariably the over from the other end bowled by a quick becomes a 'tie-an-end-up affair' rather than an attacking option. Towards the end of an innings as the clock ticks down, it becomes frustrating and wasteful. Two spinners would bring much more pressure to bear.

Pakistan have yet to name their squad. They are focussed on the here and now and continued their impressive form (they've now won nine contests on the trot) by battering Bangladesh in the first Test by an innings and 184 runs. Pakistan have been a very skinny price in every match they've played in Bangladesh and the second Test that gets underway on Saturday is no exception. They are currently [1.3] to prevail and given how vastly superior they are to their hosts, that price looks generous. If you are an eternal optimist you can get [10.0] on Bangladesh to win and [4.8] for the Test to be drawn. The weather looks set fair, making it very difficult to see anything else but another big Pakistan victory.

Pakistan will not have it so easy in January, England should prove to be much sterner opposition which should set up a cracking series, one that could well be decided by quality spin bowling on the last day of the Test matches. Latest prices show England as [2.2] favourites to win the series with Pakistan at [3.0] and a drawn series [3.3].
England are taking two quality spinners with them to the UAE, let's hope they both get a chance to shine in tandem.