EPL Betting: Walcott to help Arsenal take Emirates
Betting tips
/ Lee Dixon / 16 April 2012 / Leave a comment Bet Now View Market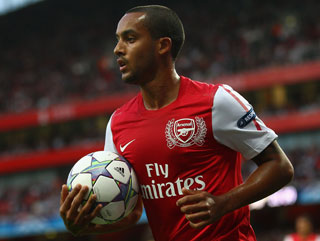 The Gunners are [1.29] to beat Wigan and I think they will.
Lee Dixon is all over Theo Walcott being in such a rich vein of form, which means on Monday Arsenal can beat Wigan in their Premier League match-up at Emirates without conceding.
There was nothing particularly surprising about the manner of Arsenal's win over Wolves on Wednesday night. They would probably have secured a relatively comfortable win anyway but the minute the Midlanders were reduced to ten men, that was pretty much game over.
But as that was all going on, Wigan were doing something far more unexpected. They were beating Manchester United at home and whereas that re-opened the title race, that's something they couldn't care less about. What it did do was secure them an unexpected three points that could well end up being the difference between staying up or going down.

Match Odds
You can say what you like about Arsene Wenger's transfer policy and something of a stubbornness as regards his beliefs. But there's no doubting the man's record. Arsenal have finished in the Top 4 every single season he's been in charge of the Gunners and in the process he's done a wonderfully responsible job of keeping the club's finances in check.
They're almost certain to finish in the Top 4 once again and secure Champions League football next year. Not that this was a certainty earlier on in the campaign. A quick look at the Betfair market tells you they're [1.06] shots to finish in the Top 4 but they traded as big as [6.0] in this market earlier on in the season.
The Gunners are [1.29] to beat Wigan and I think they will but we don't want to be backing them at that sort of price. Instead it might be best to back them to win to nil. During their superb run over the last couple of months the key has been their defence, not their attack. We all know that Robin van Persie will score goals and that other guys like Theo Walcott, Mikel Arteta and Tomas Rosicky will chip in with a few of their own and create chances plenty of chances for the Dutchman. That's never been the problem. But what they've done recently is keep clean sheets. I've always said that if Tomas Vermaelen is around and fit the others raise their game and feel more confident. That's what's happened over the past few matches and that's why they've kept four clean sheets in their last five matches. And that's included playing Manchester City (at home) and Everton away, hardly two of the easier fixtures in English football.
If you need further convincing that the [1.9] on Arsenal to win to nil is a good bet, consider the following stat from Opta: Arsenal have won all nine matches at home to Wigan in all competitions, keeping a clean sheet in each of the last six.

First Goalscorer/To Score
The talent of Theo Walcott has never been an issue. Anyone with that electric pace and those quick feet is always going to be a handful for defenders at any level. The problem with Theo has mostly been over decision-making. Shooting when he should have passed, crossing when he should have shot, that sort of thing.
But when he's in form he's one of the league's most dangerous players and that's certainly the case now. On Wednesday night it was his run into the box that led to the penalty and sending off that ended the match almost before it got started. And he followed that up with a fine goal a few minutes earlier.
He' scored in three of his last four matches and I'm going to back him in both the 'first goalscorer' and 'to score' markets.

Corners Odds
Wigan may not see a huge amount of the ball in this match but when they do have it, they'll try and get it out wide. Arsenal's system also favours getting the ball to the men on the wings even though it doesn't involve a huge amount of crossing into the box. Either way, I think we'll have plenty of corners here and 13 or more at around 2.8 looks a good bet.
2 pts Back Arsenal to win to nil @ [1.9]
1 pt Back Theo Walcott to be first goalscorer @ [8.0]
1 pt Back Theo Walcott to score at anytime @ [2.7]
1 pt Back 13 or more corners in the match @ [2.8]