Golf Betting: Stick with the Hoff
Betting tips
/ Mike Norman / 18 April 2012 / Leave a comment Bet Now View Market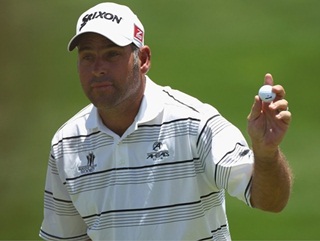 Otto has been a regular name on leader-boards in the last six weeks recording top-10 finishes at the Trophee Hassan and the Malaysian Open.
While not particularly enamoured of either of this weeks main events, it's Hennie Otto and Charlie Hoffman who Mike Norman favours most at this week's PGA and European Tour events.

After a run of big price selections finishing in the top five, the Form Guide returned to winning ways last week, albeit at much shorter odds.
You won't hear me complain however.
It was a mixed week in all honesty. Our top rated player Louis Oosthuizen (how good a player has he become by the way?) won the Malaysian Open in a canter despite being completely exhausted, but in America our 'form' players were quite poor; only Brian Davis (finished 13th) survived the week with any credit.
This week's two main events are pretty drab affairs. Only one of the world's top 20 players -- Matt Kuchar -- is in action either side of the pond and I can't remember the last time that ever happened.
It obviously means that we have some relatively weak fields assembled, and in-form players are thin on the ground. Add in the fact that the China Open is being staged at a new venue, and that the Texas Open has only two years of recent course form to go on, and you will understand why I'm going to keep stakes low this week, ignore the favourites and keep my fingers firmly crossed.

PGA Tour - Texas Open
(Tournaments used: RBC Heritage, US Masters, Shell Houston Open, Arnold Palmer Invitational, Transitions Championship, WGC Cadillac Championship, Puerto Rico Open)

Matt Kuchar (3)... 13.5
Boo Weekley (2)... 13.5
Kevin Stadler (2)... 12
Fredrik Jacobson (0)... 10 (T5 2011, T5 2010, T5 2009)
Colt Knost (1)... 10
Charlie Hoffman (1)... 8 (T5 2011, T10 2009)
Kevin Na (2)... 8

*number in brackets after a player's name is the number of top-10 finishes achieved in last six weeks/tournaments on tour
**information after a player's points relates to wins (W), top-five (T5) and top-10 (T10) finishes in corresponding tournament in previous three years

With three top-10 finishes to his name in recent weeks, and being the highest ranked player in the field, it's understandable that Kuchar is favourite at [13.0] to win here. The world number 15 has never been the most prolific winner however and he finished well down the field last week to suggest he's no good thing even in a weak Texas Open field.
And to underline the lack of 'form' players assembled in Texas, a player that hasn't recorded a single top-10 finish all season makes my Form Guide list this week. That person is Fredrik Jacobson ([25.0]), and he's in there because of his excellent course/tournament form. Jacobson has finished fifth, second, and fifth in the last three renewals of the Texas Open (the 2009 tournament was staged at a different venue to the one that will be used this week).
As I've said previously, backing a player with good course form is fine if that player is in good form currently, but I've never been a fan of backing 'out of form' players just because they've played well at a certain venue in the past. Jacobson is far from woefully out of form, but he's not for me.
The picks then will be Charlie Hoffman and Kevin Stadler, but with no great confidence it has to be said.
Hoffman has had a poor season to date, but he showed decent form last week by finishing in a tie for eighth, significant because he finished in a tie for second here last year and 13th the year before. Stadler meanwhile has recorded two top-10 finishes (one a top-five) in the tournaments used for this guide, but he also recorded a top-10 finish at the Honda Classic meaning he has finished no worse than ninth in three of his last four events played.
Recommended Bets: Charlie Hoffman @ [32.0], Kevin Stadler @ [60.0]

European Tour - Volvo China Open
(Tournaments used: Malaysian Open, US Masters, Sicilian Open, Trophee Hassan II, Open de Andalucia, WGC Cadillac Championship)

Peter Hanson (2)... 17
Ian Poulter (2)... 13
Nicolas Colsaerts (1)... 12.5 (W 2011, T10 2010*)
Stephen Gallacher (1)... 12
Hennie Otto (3)... 11
Jamie Donaldson (1)... 11 (T10 2011, T5 2010*)
Danny Willett (1)... 11 (T10 2011)

*All of the previous three year's China Opens were played at a different venue to the one being used this year

On current form Ian Poulter ([15.0]) and Peter Hanson ([16.0]) deserve to be heading the market, but I don't fancy them anywhere near as much as I fancied the market leaders last week. Instead my picks will be Hennie Otto, Jamie Donaldson and Danny Willett.
Otto has been a regular name on leader-boards in the last six weeks recording top-10 finishes at the Trophee Hassan and the Malaysian Open plus a top-five finish at the Open de Andalucia. He looked to be struggling with a bit of back pain in Malaysia over the weekend but if he's recovered from that and lines up here then he is my main selection.
Donaldson has also been on the fringe of contention recently and recorded a top-10 finish in this event in 2011 and a top-five finish in 2010 (albeit at different venues), while Willett produced his best performance of the season with a tie for third last week. That augers well as he recorded a top-10 finish in this event last year.
Recommended Bets: Hennie Otto @ [60.0], Jamie Donaldson @ [55.0], Danny Willett @ [60.0]