Golf Betting: Dont underrate these four
Betting tips
/ Paul Krishnamurty / 18 April 2012 / Leave a comment Bet Now View Market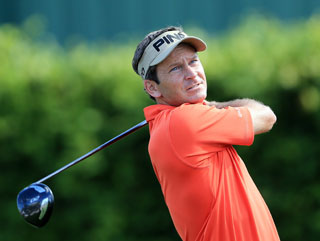 Wilson's precise win ratio is five wins from his last 147 PGA Tour starts, which equates to average odds of just [29.4], yet his actual average odds were over [100.0].
Paul Krishnamurty has a quartet of under-rated golfers who he urges eager golfing punters to pledge their loyalty.
Sincerest commiserations are due this week to my esteemed colleague Steve Rawlings, who must feel like banging his head against a brick wall following Carl Pettersson's triumph in Sunday's RBC Heritage, given that he'd tipped the Swede at huge odds for the two previous renewals.
Doubtless, as we all do on a weekly basis, Steve was deterred by the classic dilemma of whether to persevere with a repeat failing pick, asking 'How many chances do I give this guy?'.
With the benefit of hindsight, the answer in Pettersson's case is 'plenty'. This latest victory, the fifth of a largely unspectacular PGA Tour career, confirmed his status as one of those journeymen who repeatedly show they know how to get the job done when a chance to win presents itself. They're never likely to do anything special such as win a major or star in a Ryder Cup. They'll regularly go months without a top-ten finish, sometimes even missing more cuts than they make. Yet because of that limited profile, when they do pop up again it will be invariably be at a huge price.
So, who else might fit this description?
Try the following quartet.
Mark Wilson
When Wilson landed his fifth PGA Tour title at the Humana Challenge in February, his third in the space of 13 months, one might have assumed the market would finally afford him respect. Yet just a few weeks later he was back among the rags, enabling us to turn a trading profit when finishing third in the World Matchplay. Since then he hasn't made another top-20, which will mean a return to the huge odds at which he won every one of those five titles. Wilson's precise win ratio is five wins from his last 147 PGA Tour starts, which equates to average odds of just [29.4], yet his actual average odds were over [100.0].
Jonathan Byrd
Byrd cuts a very similar profile to Wilson. He also has five PGA Tour titles, all at tasty odds and showing an excellent temperament on each occasion, although they cover a longer period as he first won in 2002. Again, like Wilson, he hasn't done much recently, since a couple of top-tens before the end of February. That means he's disappeared from many punters' radars and available once again at huge prices.
Stuart Appleby
Backing Appleby on a regular basis would require extreme loyalty and is impossible to justify on the basis of any recent form, but those who are prepared to take huge prices about this nine-time PGA Tour winner can draw hope from his 2010 campaign. Going into the Greenbrier Classic, it was four years since he last won in the States. He hadn't registered a top-five for two years and missed five of his previous ten cuts. Yet not only did Appleby win the Greenbrier, he shot a PGA Tour record 59 in the final round! He also won a prestigious Australian title a few months later, taking his worldwide tally to 15. Appleby deserves to be a longshot, but if his ideal conditions of a wide-open, wind-exposed layout appear, there are worse outsiders to carry your money.
Rory Sabbatini
To a certain extent, Sabbatini is the odd one out because his reputation is slightly better than just a journeyman. His numbers, however, tell a different story and put him in the same bracket as the others. Only once ever a factor in majors, any hopes that Sabbatini would become a top-grade player have long disappeared yet his tally of six PGA Tour titles is more than most 35 year-olds manage. The good news for Sabbatini-followers is that his 'real' form is rarely as bad as the numbers suggest. Rory's poor attitude and temper are legendary. If he can't win he is prone to giving up. If he doesn't like a layout, he can quite plausibly miss a cut, shooting double digits over par. That inevitably has an adverse and incorrect effect on his price for upcoming events.