Golf Betting: Cracker opener for Masters
Betting tips
/ Mike Norman / 03 April 2012 / Leave a comment Bet Now View Market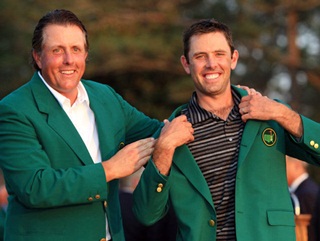 Mickelson at more than twice the price as Woods is the selection.
Going into the season's first golfing Major, there is a list of players Mike Norman has identified as worthy of serious consideration.
The Form Guide warmed up for this week's US Masters in decent, if unspectacular, style at last week's two main events.
Jose Manuel Lara (Sicilian Open) and Keegan Bradley (Shell Houston Open) were recommended at [60.0] and [20.0] respectively, but fell just short of winning, eventually recording top-five finishes for which they could have been backed at [13.0] (Lara) and [5.2] (Bradley) pre-tournament.
This week's event is an absolute cracker and deserves a full preview. It's the US Masters of course, the first and easily the most exciting Major of the season.
I've made the Form Guide as comprehensive as possible without overdoing it with seemingly irrelevant information. It incorporates recent form by looking at the results of every tournament played on both the European and PGA Tours in the last eight weeks, and course form by taking into account the last five years of results at Augusta.

US Masters Form Guide
Phil Mickelson (1W 2T5)... 41.5 (Won 10, 5th 08,09)
Tiger Woods (1W 1T5)... 37.5 (2nd 07,08, 4th 10,11, 6th 09)
Rory McIlroy (1W 3T5)... 34.5
Hunter Mahan (2W)... 29 (8th 10, 10th 09)
Lee Westwood (3T5)... 27 (2nd 10)
Justin Rose (1W 1T5)... 23.5 (5th 07)
Luke Donald (1W 1T10)... 23 (4th 11, 10th 07)
Peter Hanson (3T5)... 22
Bubba Watson (3T5)... 22
Charl Schwartzel (2T5)... 21 (Won 11)

*number in brackets after a player's name is the number of wins (W), top-five (T5) and top-10 (T10) finishes achieved in European and/or PGA Tour events during last eight weeks
**information after a players' points relates to finishing position and year (if in top 10) in US Masters tournaments in previous five years

While it might be disappointing that the first three players listed are the three favourites in the Masters Winner market, it's hard to argue that all three don't hold outstanding chances at Augusta.
Tiger Woods -- available to back at [6.2] -- and Mickelson ([14.0]) are the two best golfers the world has seen over the last 15 years. They also have the two best records round Augusta of all the players competing currently, and in recent weeks they've demonstrated excellent winning form in some high quality events. I'm not comfortable backing them both, so given that it's difficult to split the two, Mickelson at more than twice the price as Woods is the selection.
Rory McIlroy ([7.4]) has been in sensational form for almost a year now and I certainly wouldn't be put off by his final round collapse here last year. For three rounds he was virtually untouchable last April, and his form in 2012 has been incredible -- five starts, one win, two seconds, a third and a fifth. But a bit like Woods, I don't want to back Rory at such a short price when an Augusta specialist is on offer at almost twice the price.
Of the other players listed Hunter Mahan ([34.0]) has a live chance. He's a two-time winner this year and has recorded two top-10 finishes here in the last three years. But his price has almost halved since this time last week and players winning the Shell Houston Open have a terrible record of following up in Georgia.
I backed Lee Westwood six weeks ago for this event in the hope that an improvement in his putting would see his odds shorten. His putting hasn't improved and I'm happy to go on record as saying he is the worst putter in the world at this level from inside 10 feet. I hope he wins but I'm certainly not queuing up to back him again.
Three players that I am happy to have on my side from those listed are Europeans Luke Donald ([18.0]), Justin Rose ([34.0]), and at a massive price, Peter Hanson ([280.0]).
Donald's game is made for this course. Contrary to what many people think, you don't have to be a huge hitter to win round here, and if having a good short game plays a big part then there's arguably not a golfer in the world with a better touch around the greens than Donald at present. And he's not a bad putter too. The world number one finished fourth here last year and I think he has an outstanding chance of going a few places better.
Rose has played some superb rounds at Augusta, unfortunately for him not all in the same year. He recorded his biggest win of his career last month and has looked in good form since. Hanson meanwhile just looks too big at his current odds. He has no course form to go on but three top-five finishes in 2012 in some good company means he shouldn't be the price he is.

Recommended Bets
Back Phil Mickelson @ [14.0]
Back Luke Donald @ [18.0]
Back Justin Rose @ [34.0]
Back Peter Hanson @ [280.0]