Champions League Betting: Chelsea to take it up to Barca
Betting tips
/ Lee Dixon / 18 April 2012 / Leave a comment Bet Now View Market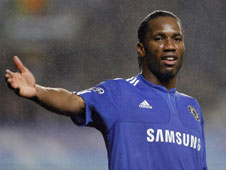 Chelsea need to...make it difficult for the two play-makers, Xavi and Iniesta, to receive the ball.
Chelsea's reward for eliminating Benfica in the Champions League is a showdown with Barcelona, something Lee Dixon knows is a difficult task at the best of times...
Barcelona deserve all the credit they get for the way they play, the spirit with which they play, how hard they all work in terms of tracking back and closing down and of course...for the sheer number of goals they score.
But they're not invincible: no-one is.
Two years ago Inter Milan frustrated them over two legs playing a typically Jose Mourinho-style of pragmatic football and this season several teams in La Liga have held them, especially away from the Nou Camp.
And one area where Chelsea can get the better of them is in terms of physical battles. For all their speed, trickery and skill, Barca are a small side and the bigger, stronger, heavier players in Chelsea's ranks have to make the most of that advantage.
So, for my money Didier Drogba has to start. Whether Fernando Torres plays alongside him or not is for Roberto Di Matteo to decide but the Ivorian has to play and try to bully Barcelona's back four. The other thing Chelsea need to do is make it difficult for the two play-makers, Xavi and Iniesta, to receive the ball. Mark them or close down the defenders looking to feed them the ball. Easier said than done of course but it's imperative.
Finally, they need to make sure the two-full backs, probably Branislav Ivanovic and Ashley Cole, play narrow at the back. The responsibility to close down Barca's two full-backs, particularly Dani Alves, will be of Chelsea's two wide forwards so Ivanovic and Cole need to play narrow rather than wide. That means that if the likes of Lionel Messi and Alexis Sanchez can turn and beat their marker, they won't have so much space to run into.
I'm not sure Chelsea will actually win this match, despite the fact they're at home and are carrying momentum after that superb FA Cup win over Tottenham. But I do think they can draw first blood here. If they are quick out of the blocks and aggressive from the start they can create a few chances before Barca get their passing game going.
So I'm backing Chelsea at a pre-match [5.1] with a view to laying off at round [2.7] if they go a goal up.

Both Teams to score?
The game might not pan out exactly as I've predicted of course but I do think Chelsea will score here. They simply have to take the game to Barcelona because they know they'll hardly see the ball in the return leg, so I'm expecting them to be positive.
As for Barcelona, that 0-0 draw in Milan a few weeks ago was the only time in 18 matches that they didn't score so the odds are stacked against a Chelsea shut-out. There's more value in backing both teams to score at [1.8] than over 2.5 goals at [1.86] because I think 1-1 is a big runner in this game. So that's our second bet of the match.

Bookings Odds
This will be a high-pressure affair as it is between two sides who don't particularly like each other. And the fact referee Felix Brych will be in charge won't help keep the card count down. The German has sent off eight players in just 25 matches refereed this season and showed six bookings when Chelsea hosted Napoli a month or so ago. There should be at least nine bookings points in this match (five yellows or a read and two yellows) and that's worth backing at [1.9].
1pt Back-to-lay Chelsea @ [5.1]
2 pts Back both teams to score @ [1.8]
1 pt Back nine points and above in the bookings odds market @ [1.9]